Wallace H. Carothers was born on April 27th, 1896 in Burlington, Iowa, the son of Ira and Mary Carothers.    In the words of Elmer Bolton, Dr. Carothers' future supervisor, he would eventually become "…one of the most brilliant organic chemists ever employed by the DuPont company".  During his high school years he developed an interest in science and began reading scientific literature during his spare time.    In 1914 he graduated from North High School in Des Moines, Iowa.    His father's vision, however, was somewhat limited and he did not recognize his son's potential.  As a result, Wallace was enrolled in the Capitol City Commercial College of Des Moines in the fall of 1914.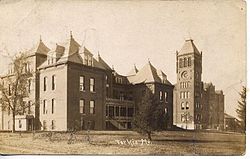 In July of 1915 he graduated from the accountancy and secretarial curriculum. In September of 1915, Ira sent his son to Tarkio College in Missouri which was newly established by the United Presbyterian Church.    In a biographical memoir published by the National Academy of Sciences in 1939, his mentor Roger Adams recalls that "Upon entering college his interest in chemistry and physical sciences was immediate and lasting and he rapidly outdistanced his classmates in accomplishment.   As a student he showed mature judgement and was always regarded by his fellow students as an exceptional person.  Invariably he was the brightest student in the class regardless of the subject."
During Wallace's junior year, Arthur M. Pardee, the chemistry instructor, accepted a position at another institution.    As Tarkio was unable to locate another instructor on short notice, Wallace, who had previously completed all of the chemistry courses, was asked to temporarily fill this position.    He graduated, with a bachelor's degree in chemistry, however his graduation was delayed by one year until 1920, due to his teaching responsibilities. After leaving Tarkio, Wallace enrolled at the University of Illinois and graduated during the summer of 1921 with a master's degree in chemistry.  During 1923 and 1924 he held the Carr fellowship, which was the highest award offered at that time by the department of chemistry at Illinois.    He ultimately obtained his doctorate in 1924.
In 1926 Dr. Carothers accepted a position as the instructor of organic chemistry at Harvard University. In 1928 Dr. Carothers made a fateful decision to leave Harvard and accept a position as the head of research in organic chemistry at the DuPont "Experimental Station" in Wilmington, Delaware.    Although he would head organic chemistry, most of his research would be conducted in other areas; specifically in polymerization.
In his 1939 memoir, Roger Adams recalls during the years between 1928 and 1936 that Dr. Carothers "…made several contributions to the theory of organic chemistry and discoveries which led to materials of significant commercial importance".  In the same memoir, Adams also notes that Dr. Carothers achievements were "…recognized by his election to the National Academy of Sciences in 1936 ‐ the first organic chemist associated with industry to be elected to that organization."
The two most commercially significant discoveries credited to Dr. Carothers are Neoprene synthetic rubber and a class of materials known as super polymers.    The most important, however, was a specific super polymer known as polyhexamethyleneadipamide; fiber 66.  In the summer of 1935, shortly after the discovery of fiber 66, Wallace presented a paper entitled "Polymers and the Theory of Polymerization" at the Johns Hopkins summer colloquium. Dr. Carothers, however, would never hear the trademark name given to his discovery that was initially known only as fiber 66.
He never knew the significance of his teams' invention which was the crowning achievement of a lifetime dedicated to scientific research.  Sadly, this brilliant man suffered with frequent bouts of depression throughout his life and felt that he had achieved very little of any significance.
On April 28th, 1937 he drove to Philadelphia, Pennsylvania.  He most likely drank heavily that evening at the bars and clubs he reportedly frequented.  At approximately 5:00 AM on April 29th, he checked into the Philadelphia Hotel. Roughly 12 hours later he committed suicide by drinking a glass of lemon juice that he had laced with cyanide salt. He was 41.  He reportedly knew that lemon juice, being acidic, would intensify the effects of the cyanide.  The police found no note. How was it that this brilliant man with so many extraordinary achievements became depressed and committed suicide at such an early age?  I would ultimately find the answers to all of my questions in a book entitled, "Enough for One Lifetime ‐ Wallace Carothers, Inventor of Nylon" by Dr. Matthew E. Hermes.
After reading the book, I identified at least eight primary factors that I believe significantly contributed to Dr. Carothers' depression and suicide. Wallace Carothers' father was a devout Presbyterian and his selection of the Tarkio Presbyterian College in Missouri for his son's education was primarily based on his desire to incur favor with the members of the Presbyterian Church, rather than what was best for his son's future.
Dr. Hermes notes that Ira's choice to send Wallace to Tarkio was part of "…a sacrifice of his family by his father to the church".    Although Wallace accepted his father's decision, it may have been one of the early factors that led to his unhappiness.  Irrespective of his father's intentions, however, Wallace was destined to become a great chemist. By the time Wallace began his education at Tarkio, he had begun to smoke.  It is unclear, however, what effects this may have had on his depression.
The immediate reaction to this daily vice may have actually been to have a calming effect on his nerves.  However, the long term effects of smoking may have contributed to the serious health problems he suffered later in life and therefore may have been a significant factor in his demise. His later years at Tarkio, Wallace took his first drink during the celebration of a friend's graduation.    As the years passed, he began drinking heavily on a regular basis.   His drinking corresponded with the prohibition years which eventually proved to be a severely misguided social experiment. Prohibition initially decreased drinking in parts of the United States.
Shortly thereafter, drinking increased to a level higher than it had previously been. Morality cannot be legislated.  Alcohol, albeit of questionable quality, was readily available for anyone who was so inclined and much of the liquor Wallace consumed was purchased from bootleggers.  More than any other single factor it was responsible for his fate as it robbed him of his reason and eventually of his ability to function in a normal manner.  Additionally, alcohol undoubtedly exacerbated his depression and contributed to his health problems.
Unfortunately, during Dr. Carothers' lifetime, alcoholism was not understood as it is today and no professional help was available. Wallace Carothers suffered from a phenomenon that Dr. Hermes refers to as "intellectual demons".    This concept can alternately be expressed as becoming possessed, obsessed or fully dedicated to the achievement of a certain specific goal, to the extent that one is willing to sacrifice both sanity and physical well‐being to achieve that goal.
It is, quite literally, the selling of one's own soul for the sake of achievement.  In the athletic world, for example, many top athletes become fully dedicated to achieving the very highest level of performance that is humanly possible.    In the process, they sacrifice everything else in their lives for an extended period of time; including their relationships with their spouses and families.  In the scientific field of chemistry that Wallace Carothers chose for himself it was a foregone conclusion that he would spend a considerable amount of time battling intellectual demons.
It is often the price that must be paid for any real achievement. By the time Wallace Carothers was in his late graduate years, he referred to himself as leading an "Aboulic" life.  He was describing his inability to make clear and concrete decisions; to choose a definite direction for both himself and his work at any given moment.    The indecisiveness Dr. Carothers felt may have been a side effect of both alcohol and the battles he fought with his intellectual demons.
From the moment Dr. Carothers left his post at Harvard and accepted the job with DuPont, he began referring to himself as an "industrial slave".  Conventional logic would suggest that he was correct.  Most scientists who work for large corporations are indeed slaves to their jobs in one form or another.  These companies are serious about their research efforts and the ultimate payoff that is eventually expected is continually present in the minds of the upper management.
However, the particular job Dr. Carothers accepted with DuPont was anything but conventional.    He was wooed by DuPont with the promise that he would be responsible for choosing the direction of his own research.    He would have nearly limitless funds to purchase the finest lab equipment of his own choosing. These promises initially proved to be true and the company kept its word.
The positions Dr. Carothers and his piers were hired for were those of true scientists.   It was pure research, for the sake of research. Perhaps, however, Dr. Carothers may have sensed that the position he found himself in was too good to last. After a few short years the company management decided that the goals of their research efforts should become better aligned with the overall goals of the company.    Not surprisingly, they began searching for the shortest route to the ultimate payoff, inherently creating very stressful conditions.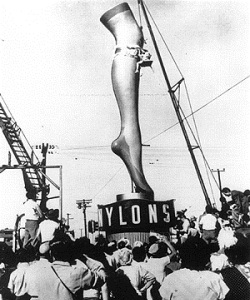 Dr. Carothers eventually confided to a friend, regarding the state of his job, that an "atmosphere of anxiety has arisen". All societies function from a long list of unspoken rules and one can expect to pay a high price for any deviation from these rules. The penalty usually comes in the form of being ostracized from the social circles in which one might otherwise be included. Dr. Carothers suffered from the pressure placed upon him by society to conduct his personal life in a manner consistent with his professional career.
Near the end of his life he began an affair with a married woman.  This relationship was viewed negatively by his friends, his coworkers and the DuPont company management which did not want to risk an associated scandal. Dr. Carothers eventually discontinued his questionable relationship, only to quickly enter into an unhappy marriage with another woman. As is often the case, however, those who judged Dr. Carothers did not have all the facts.
The woman he had previously been dating was in the process of obtaining a divorce from her husband.  We may safely assume that the entire experience was very emotionally unsettling. Near the end of his life, Dr. Carothers' sister Isabel died very unexpectedly. This is reported to have been a devastating event for him.
Being previously worn from all the pressures of life and hopelessly alcoholic, perhaps it was simply unbearable.  In all likelihood, this tragic event was the final factor that led to Dr. Carothers suicide. What lessons and insights can be gleaned from the life of Wallace Carothers?  In his early years, while his health was good, he achieved great success.
Health is the foundation upon which everything else in life is built.  It is the source of energy necessary to bring success to any task you undertake.  Unfortunately, the choices Dr. Carothers made for himself eventually contributed to the decline of his health and greatly diminished his remarkable natural abilities. These choices were undoubtedly a significant factor in his eventual demise.
If Dr. Carothers suspected that the initial terms of his employment with DuPont would eventually change, he was correct.  One should not rely on the events that are occurring in the outside world to be happy.  The unique circumstances we each face on a daily basis are continually changing.  If you allow the present situation to dictate your mental state, you will be happy one moment and sad the next.
True happiness must come from within. Many employers rule through tactics of subtle fear and intimidation, thereby creating an "atmosphere of anxiety".  The severity of these conditions is directly proportional to times of economic hardship.  Proverbs 22:7 states that "The rich rule over the poor, and the borrower is a slave to the lender."
Most people are in fact enslaved by their employers to various degrees. The work environment therefore becomes a culture of finger pointing and a breeding ground for paranoia, with many decisions being made as the result of fear rather than common sense.
This situation, in all its various forms, is a leading cause of depression and is often the subject of popular Dilbert cartoons. Perhaps, however, the greatest lesson that can be learned from studying the life of Wallace Carothers is that academic and professional success alone do not equate to happiness. Although traditional success and the associated monetary gains are highly coveted, the sacrifices that are sometimes necessary to obtain them can lead to ones demise if they are not balanced with other important aspects of life.
Achieving a balance between ones career goals, emotional needs and spiritual needs, promotes a strong personal sense of well being and inner peace.  In Mark 8:36, Jesus asks, "For what shall it profit a man, if he shall gain the whole world and lose his own soul?"
Wife:Helen Everett Sweetman
Daughter:Jane
Mark A. Vaught
Primary Sources
Title: Biographical Memoir of Wallace Hume Carothers, 1896 ‐ 1937
Author: Roger Adams
Publisher: National Academy of Sciences of the United States of America
Date of Publication: 1939